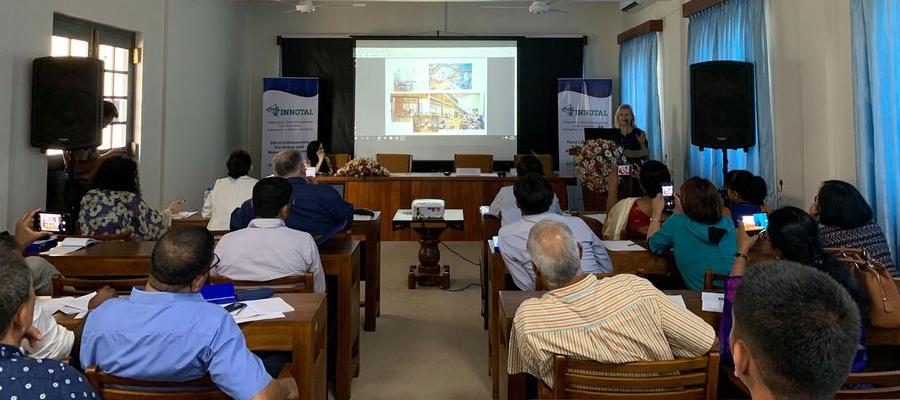 Third Collaboration Workshop
The third INNOTAL project meeting, which was held April 2-4, 2019, was hosted by University of Ruhuna in Matara, Sri Lanka, and was attended by nearly 50 representatives from the 15 partner organizations.
The main objective of the collaboration workshop was to allow exchange of ideas and peer consultation on the design and planning of the Talent Co-creation Labs and the Student Community Service and Volunteering Centres that will be developed at each Asian University participating in the project. The workshop resulted in detailed plans for the organization and activities of these centres and in more clarity about their place within the university. Partner Universities also discussed the functions of the innovation and knowledge flow management online platform (OpenResearch e-Lab) that will be developed in the project.
During this workshop, we focused on peer learning and joint development. All Asian universities presented their draft strategic documents for embedding graduates' employability in the university operations, as well as the process of organization and assessment of internships. They received useful feedback which will allow them to finalize the strategic documents and plan further improvements. The process has been aided by presentations from the EU partners on current trends and effective procedures for organization and assessment of internships at EU universities.
The representatives from VAMK, Finland, presented examples of Co-Creation Labs operating in Finland, as well as alternative designs of space organization in such labs based on the Finish experience. With the help of this fruitful exchange of ideas and good practices, the participating Asian Universities made concrete plans for launching Calls for Collaborations targeted at external stakeholders wishing to collaborate with the Talent Co-Creation labs, and for possible organization of space and work within the Labs.