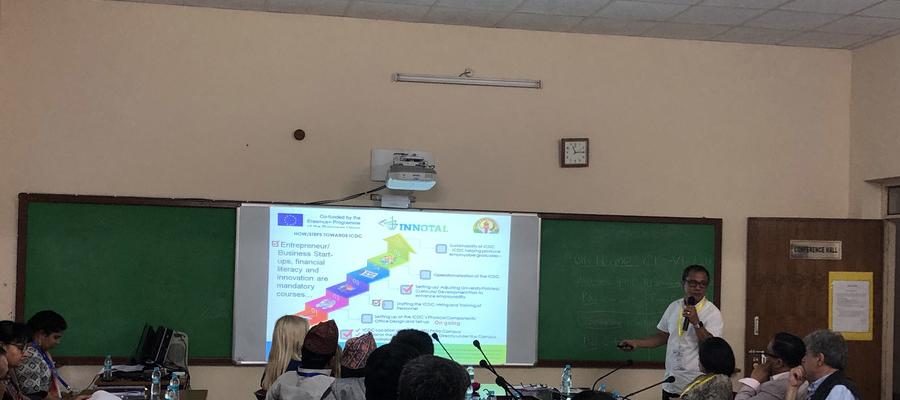 Fourth Collaboration Workshop
The fourth INNOTAL project workshop was held December 11-13, 2019, and was hosted by University of Hyderabad, India. It was attended by around 40 representatives of the 15 partner organizations.
The first main objective of the collaboration workshop was to exchange information and ideas about the strategic plans for improving graduates' employability currently developed and implemented in the INNOTAL Partner Country universities. The second objective was to allow the INNOTAL partner teams to jointly plan and work on the scope and content of training modules on Entrepreneurship, Innovation and Technology Transfer. The workshop resulted in detailed templates for learning materials relevant to the needs of the PC universities, as well as in more clarity and new ideas about the activities of the Talent Co-Creation Labs. Finally, the workshop focused on planning the use of the innovation and knowledge flow management online platform developed in the frame of the project.
The workshop was an excellent opportunity for getting fresh ideas and feedback on ongoing strategic plans for improving graduates' employability at the participating universities. The project teams discussed their institutions' progress in embedding entrepreneurship education and employability promotion in university operations, and in particular the activities of the Talent Co-Creation Labs. Plans for sustainability were presented in detail. EU and Asian partners worked together to jointly improve the strategies underway and to develop ideas for collaboration activities that could support individual university efforts.
The EU partners presented preliminary plans for the content of the INNOTAL training modules - "Innovation for Sustainable Development", "Entrepreneurship, Regional Development and Cluster Formation" and "Technology Transfer Management". The project teams jointly finalized the plans in view of the training needs at Asian partner universities. Asian partner experts had the chance to provide input into the training modules' content and collaborative work was planned.
Partners further developed concrete plans for utilizing the Open Research innovation management platform and for maximizing its use by faculty members, students and external stakeholders. The teams had the chance to get technical training and support regarding the use of the platform.